Statistics
Our company exists on Polish market for many years, working with many suppliers, customers and assemblers. Here we present data that illustrate this.
Sales structure by services provided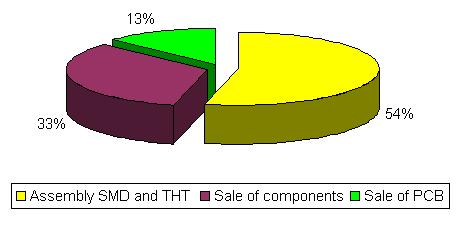 As you can see the largest share of sales have finished products, which were assembled at the request of the customer, including the supply of components and PCB laminates. Assembly on request is now 54% of the total sales of the company. Another important branch of business, which now accounts for 33% of total sales, is selling electronic components, at the end (13%) came in sales of PCB laminates.
The company supplies many companies with the electronics sector in Poland as well as in countries such as Denmark, Norway, Germany, and Others
Structure of sales by markets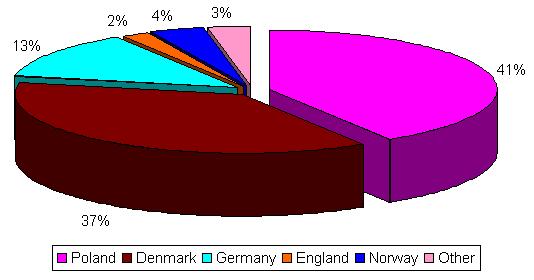 As you can see in the above graph 59% of sales in international markets, including 37% is exported to Denmark. Foreign Exchange in this sector is growing steadily thanks to the high quality of our service and attractive price offers. The largest share of sales is still 41% of the domestic market, which in recent years is growing rapidly and where you still see a big potential for growth.
To ensure the best electronic components and PCB laminates company works with a number of reputable suppliers, so it can offer its customers high quality items at affordable prices. The chart below shows the structure of each market purchases by acquisition.
Structure of markets by acquisition

As you can see the largest share of purchases have companies with 31% of the Polish market that offer high quality goods. Our suppliers are also of German (6%), English (10%), French (5%) and Denmark (9%). Also constitute a significant percentage of goods imported from the U.S. (19%) and China (17%). We try to offer items which are original, from reliable sources and meet all customer requirements.